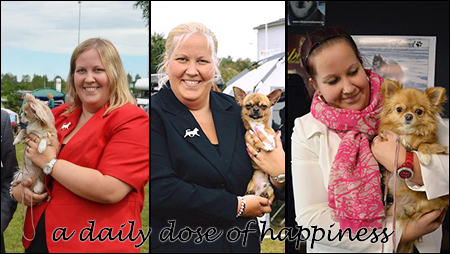 T.L Me &  Perlan (Tjohalias After Me Please) | Middle Me & Allan (Tjohalias Reached My Gold) | T.R Me and Suki (TSO´s Bright Crystal)
My name is Jenny Seger and it's me who owns this kennel. The kennel is located in Älvsbyn, Sweden. I live here with my husband Jonas and our dogs.
My interest in animals has always existed, primarily for dogs. Chihuahuan walked into my life in 2005 when I got to buy my polar bear "Isidor" from Lotte (Chi-lott's Kennel). After that I was stuck in this wonderful breed. My interest in show and breeding has grown more and more, mostly because of my dog Suki (C.I.B EE SE FI NO DK NORD CH The Small One´s Bright Crystal) who have given us much joy in the showrings. At this moment we have 5 dogs at home.
We breed on smoth & longcoated chihuahua with prefix Tjohalias. Our goal is to breed healthy and typical chihuahuas. All matings that we do is carefully planned. Our dogs are PL tested and eye tested before mating. If you are interested in a puppy from us, you may send me an e-mail. Tell us about your family, previous experience of dog? Why a Chihuahua? Smoth/ longcoated? We sell puppies for both exhibition and breeding, tell this for us so we can more easily find a puppy that fits you. We do not use the queuing system, we select the puppy that fits your family best. We're not sell puppies / dogs on installment plan. Sometimes we have adult dogs for sale.
We follow the Kennel Club Rules & Chihuahua circle's recommendations.
My Education:
SKK Breeding course
SKK Ring secretary
CUA
Tracking course
Several handlerclasses
Dogs anatomy course
Eye diseases course